Winter break can bring on severe cases of winter boredom!  When the weather outside is frightful, don't let getting stuck inside get you down!  Use existing materials and find creative ways to explore the science hiding in our everyday lives!  For today's activity, I enlisted my favorite little scientist, my daughter Little C, and set out to make some beautiful snow globes!  The items that you will need to do this at home include:
Once you have gathered your materials, it's time for construction to begin.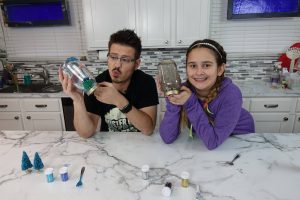 First make sure that your container and lid are clean.  

Glue down your items to the lid so that don't float around in the container once you seal it.  

Once you've secured your decorations, add water and glycerin to your jar.  The glycerin helps suspend the glitter in the jar.  This is where the science kicks in.  Experiment with the amount of glycerin to see if it impacts how the glitter floats in the water.  In the video below, you can see how Little C's snow globe behaves differently than mine.

Once the glycerin has been added, it's time to toss in some glitter!  It's totally up to you to decide how much is enough.  Take a look at the ones we built in the video below…We added a lot of glitter!  

Now… close it up and shake, shake shake!  Sit back and enjoy your beautiful creation.  

Interesting in tossing other things in there to float around?  Give it a try to see how it interacts with the liquid in your jar.  Its density will determine whether it sinks or floats!
Be sure to check back for more from Learning Science is Fun!  Thanks!  ~Mister C