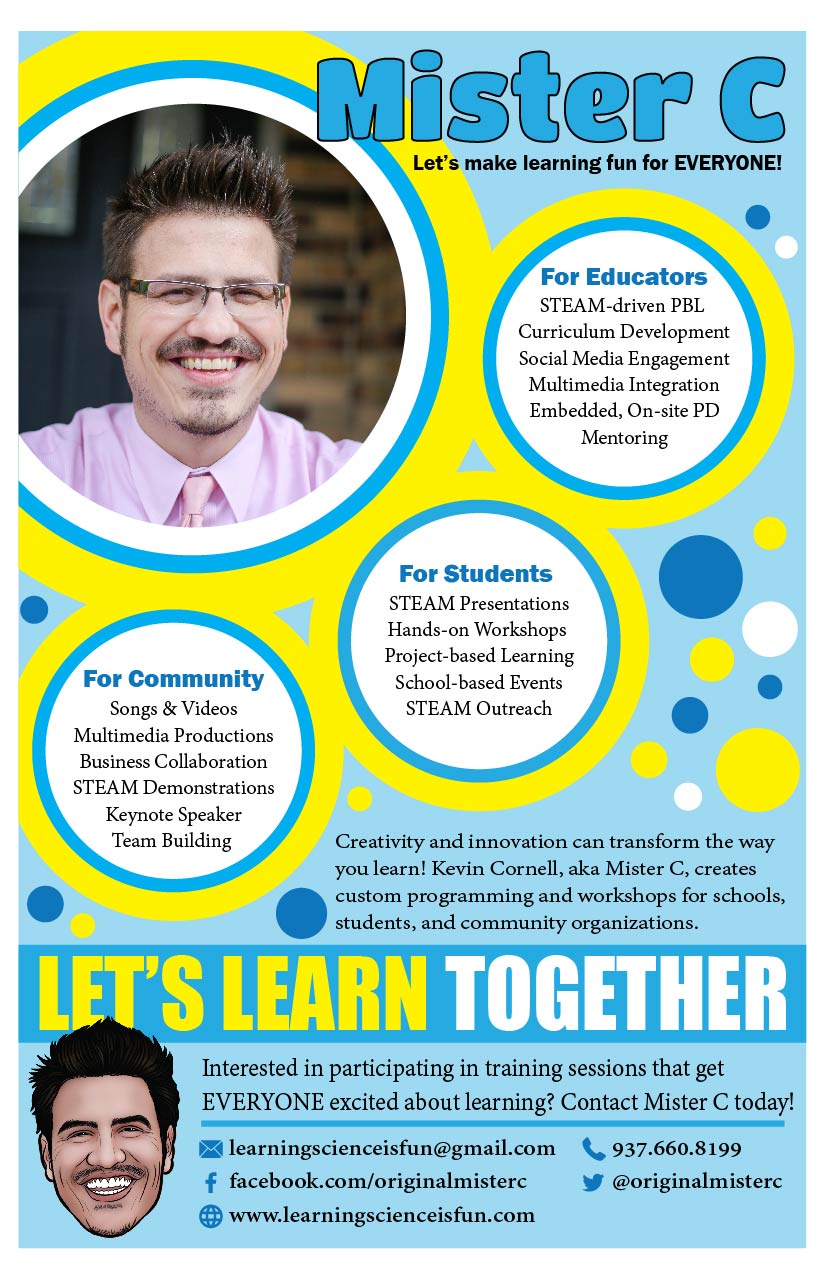 Take Learning to the Next Level!
Take your upcoming professional development session or school event to the next level and provide your staff or students an opportunity to engage with learning like never before. Mister C, aka Kevin Cornell Ed.S, creates powerful professional development and learning opportunities to transform the way students and staff experience learning.
As an educational administrator, Mister C has created, developed, and facilitated 100's of professional development sessions focused on guided-inquiry, growth mindset, engineering design process, engineering design challenges and how to integrate the arts into the classroom. When it comes to inspiring creativity and innovation, Mister C is a proven educator of 16 years who takes pride in focusing on the HOW to get students to learn best.
Mister C works as an educational STEM/STEAM Consultant throughout Ohio and all over the country.
For Students
In addition to visiting schools and performing live STEAM shows, Mister C creates learning experiences embedded in the Engineering Design Process and uses Engineering Design Challenges to facilitate critical thinking for students of all ages. These student-centered activities can be designed for a specific grade level, or for an entire building.
For Community
Mister C presents as a keynote speaker throughout the country, and also presents his Hair Raising Science to community organizations throughout Ohio.  Click here to see where Mister C will have his next public event! Mister C uses eye-catching, high energy demonstrations and experiments to engage audiences of all sizes! Whether you need him for your scout meeting, or if you need him to present in front of 1000 students, Mister C will capture the imagination of student and parents and transform the way they view learning! #LetsLearnTogether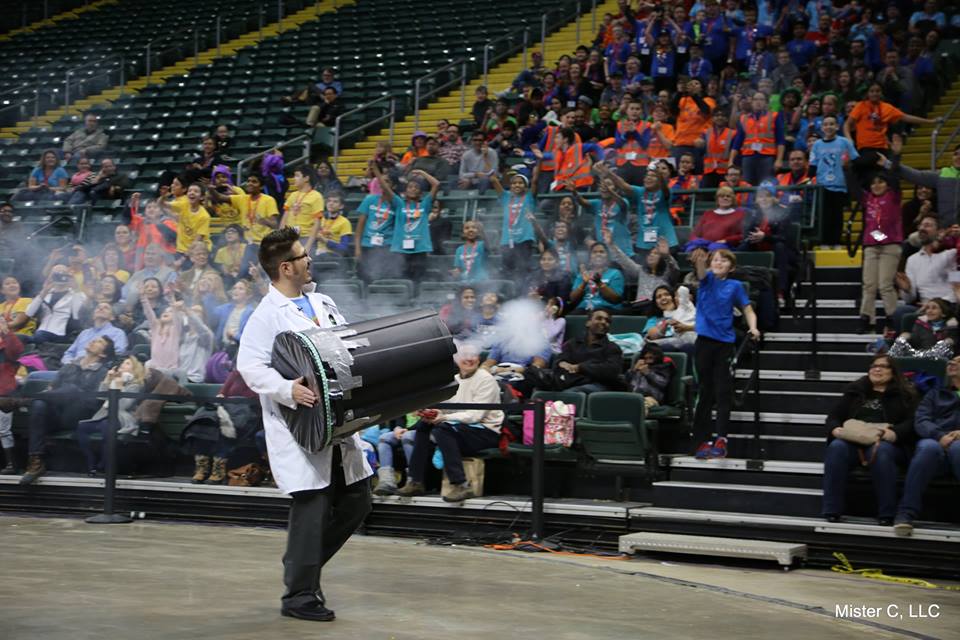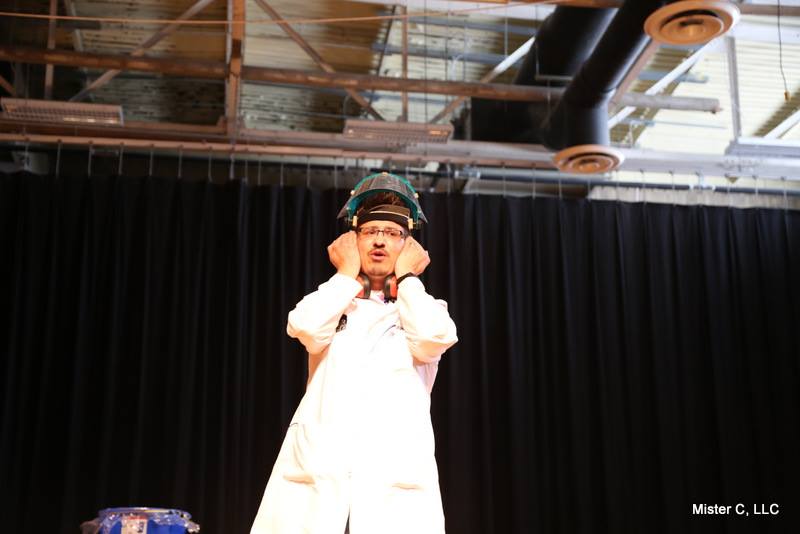 For Teachers
Transform the way you teach your students and make learning fun again! Whether it's Project Based Learning (PBL), Engineering Design Challenges, Inquiry-Based Learning or multimedia integration, learning powerful ways to connect with students means higher engagement and higher retention of critical concepts and standards for your students. Make your class/school the place you've always wanted it to be! Mister C has developed curriculum independently and for school districts for 10+ years and knows the how to get teachers excited about learning, so that they can build and strengthen their confidence and directly impact student achievement!
Hear
what others are saying:
"Our staff at the Graham Local Schools love working with Mister C on STEM methods and challenges. Teachers rave about the interactive, fun design challenges, and how Kevin explains and supports them in delivering great lessons for learners. He makes it fun, easy to understand, and at the same time, promotes the use of STEM for rigorous learning experiences for students." ~Kirk Koennecke, Graham Local Schools Superintendent

Mister C put on a phenomenal presentation! He had a nice balance between the excitement of the demonstrations and the scientific explanations behind them. Parents stated that students came home and were talking about what they experienced all night! ~ 

Sarah Nartker, 3rd Grade Teacher

Students participated in some Hair Raising Science experiments and Mister C demonstrated chemical reactions, physical reactions and even a thermal reaction that involved our superintendent. The students enjoyed learning about science and were encouraged to keep "Thinking Like Scientist" –

Holly Shively, 4th grade teacher

"What a great presentation! Not only were the kids hanging excited about all the experiments, so were all their parents!"  

~ 

John Snizik, Scout Leader
"Having Mister C at our school was exciting. He showed us really cool experiments. The experiment with the leaf blower and the ball was really cool!" ~ 

Jillian, 3rd Grade Student

"Science in the Studio was exactly the Professional Development I needed as a Gifted Intervention Specialist because I could share and incorporate what I learned both in the classroom and with my colleagues. From the refreshing and enlightening training, I was able to utilize methods and techniques for media creation directly into my content based curriculum that was current and engaging for my appreciative students."

~ Casey Holtzman, Gifted Intervention Specialist